Prof. Michael Fleming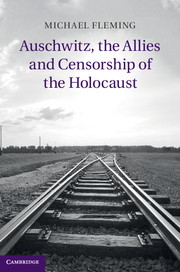 Biographical Note:



Michael Fleming is a professor of history at the Polish University Abroad, London. He is also the conference secretary to the Institute for Polish Jewish Studies. He has previously taught at Jesus College and Pembroke College, Oxford University, and has been a visiting researcher at the Pułtusk School of Humanities and at the Institute of History, Polish Academy of Sciences in Warsaw. In 2011, Fleming was a co-winner of the Aquila Polonica Prize. His current research examines Polish intelligence on the Holocaust. His most recent book is

Communism, Nationalism and Ethnicity in Poland, 1944-1550

(2010, Routledge).



CONTACT:

E-MAIL




The Polish Embassy hosted a launch for Professor Michael Fleming's book "Auschwitz, the Allies and Censorship of the Holocaust". Visit Embassy website for details: Here...

You can also buy prof. Fleming's book here: Auschwitz, the Allies and Censorship of the Holocaust




The seminar takes place at the Polish University Abroad, POSK building, 3rd Floor, 238-246 King Street, London W6 0RF one day each month at 6.15pm (twice in November). The seminar will be especially useful for students reading MA or PhD degrees in history or cognate disciplines. All are welcome, but those wishing to participate should e-mail Michael Fleming directly: REGISTER... - prior to each seminar as places are always strictly limited. Admission free.









16 October 2013



Dr Wojciech Rappak
University College London



Karski story and Karski history: similarities and differences.







6 November 2013

Dr Anthony Kemp-Welch
University of East Anglia, Norwich



Poland and the Brezhnev Doctrine, 1968-1989








20 November 2013





Professor Anita Prażmowska


London School of Economics



Gomułka's Underground activities between 1943 and 1945








18 December 2013





Dr Hugo Service


Oxford University



Upper Silesia in the age of the ethnically homogenous nation-state, 1939-49









23 January 2014





Dr Mikolaj Kunicki


St Antony's College, Oxford University



Nationalism for All Seasons: Bolesław Piasecki and Polish Communists.








19 February 2014





Dr Halik Kochanski


Independent scholar - author of 'The Eagle Unbowed: Poland and the Poles in the Second World War'



Poland's place in the Grand Alliance during the Second World War.








19 March 2014





Prof. Michael Fleming


Polish University Abroad, London



Polish intelligence about Auschwitz: A further challenge to the elusiveness narrative

.

Polish University Abroad


[ PUNO ]
238-246 King Street
London W6 0RF



Office open:


Mondays, Wednesdays, Thursdays
16:00 - 19:00



Email:

info@puno.edu.pl


Tel.:

+44 (0)20 8846 9305



Polish University Abroad in London

Our mission is to serve all generations of Poles who, outside their mother country or the land of their forebears, wish to continue their academic studies, broaden their knowledge of the contemporary world and maintain contact with Polish science and culture.

"
...PUNO has a special symbolic and emotional significance for me: it stood out for several decades as the only authentically free expression of Poland's intellectual tradition. Your voice was a constant reminder that free thought is the essential component of political freedom. And I also know how much effort and sacrifice were required to keep PUNO alive so that its voice would be heard. I am honoured now to be part of you, knowing as I do now how much Poland owes to PUNO...
"
Prof. Zbigniew Brzezinski 2005
Acceptance speech,
Ph.D. honoris causa

_________________________________



Copyright by The Polish University Abroad | Registered as a charity in England No. 298510



_________________________________